The Living Sea
May 18, 2012
The moon shimmered delicately on the blackened sea of grass,
As I went to lay upon it amongst the soft and tender blades.
Looking to the stars above I lay in reverent silence.
Listening. Thinking- of everything and nothing.
The gentle cool winds of the night caress me with nimble fingers.
Gently. Gently. Softly. Thoughtfully.
They whisper of silence, stillness, of peace.
Whispering of everything. Everything, and nothing.
The ghostly cats wander; guardians of the night.
Veiled in pale moonlight and silent as the stars,
Their graceful dance do they perform.
I feel the earth, its heart and breath, older than time.
And I sigh, breathing in the cool silence,
Tasting the moonbeams on my tongue.
I let the stars rain in my heart, filling me with peace.
Filling me full of everything. Filling me with nothing.
As I lay the angels come down from heavens high.
They take me to the moon in the sky above.
Where I lay amidst the sea of rock looking at the earth.
Looking at everything. Looking at nothing.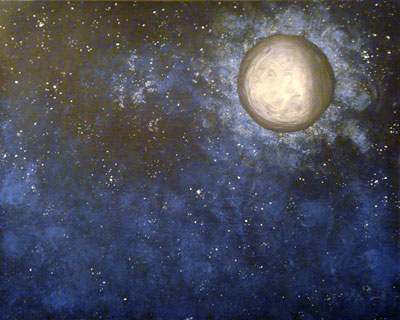 © Allison H., Vancouver, WA