Gone.
May 17, 2012
Gone! They're all gone!
Every last one of them!
Their bodies strewn across the battlefield,
In seemingly intricate designs,
Designs that seem to scream to me,
Loss! Sadness! Fear!
As I look at it I begin to wonder if it's even real,
Is anything real anymore?
Are they really dead and gone or is this just my mind playing tricks?
No.
It's real,
The blood spattered everywhere, the lifeless stares of the fallen,
Some I knew, others were just faces,
Frozen in their death.
Their icy yet distant stares hold me in place,
No one's mind could imagine this,
Such carnage, such ferocity!
And now,
Such calm, such peace,
A peace I'll never know.
No mind no matter how deranged could ever imagine this!
Could it?
Something's lost, something's gone,
I can't for the life of me remember what it is,
Not that it matters, I'm a soldier!
Shoot or be shot, fight or die,
It's like a game, if I'm lucky maybe I'll get a game over.
It's all a game, just a game.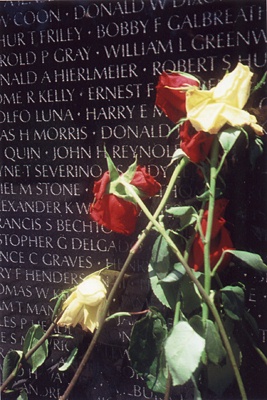 © Justin R., Angola, IN