Footprints
May 13, 2012
You left your footprints in the sand
And I studied every one.

I identified an intricate print,
Not a grain out of place,
A print almost too challenging to replicate.

Throughout high school, I have attempted to follow your footprints—
And to yours I have created my own.

You were always there to guide me,
Advise me,
And even at times surprise me.

An outstretched hand to help,
A shoulder to cry on.
How do you do it all?

You have inspired me to become
All that I am today.
My footprints may not match yours exactly,
but I will continue to follow you through life.

Oh how many days I have spent
Soaking up your knowledge
instead of the tempting sun.

Although I may not be sitting in your classroom,
I will always walk with you.

I am no longer just 1 in a class of 379—
I will forever shine.
Shine in light of you.
You will not be forgotten—
I won't let the waves wash away your footprints.

I won't be afraid—
I will follow your footprints
When life's waves come crashing down.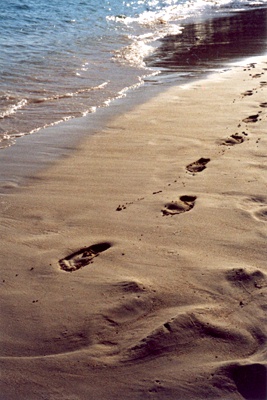 © Ashley B., Potomac, MD