Ashes are for spreading
May 5, 2012
I don't remember a lot about why your shriveled life was contained in urn,
Why the colors change with season and your emotion with every turn,
Why the ice dislodges and causes avalanche and decimates the town,
Why the mentality of a young man can change with a slew of nouns,
Why verbal reaction is hostile, only to the ones you love most,
Why the pain in this world invades the strongest hosts,
My father, a man of great strength, and self revelation,
Wasn't reserved for the elegant, heavy mohagony coffin,
Was he not enough to remove the worlds pride?
Why was he the one to be trampled in life's stride,
Big, and bellowing, 
enormous, and swelling,
Unrelentless and unforgiving,
For art thou not made sinning?
We all are children, not of god not of man,
But what we create with the movement of our hands,
In unison we scream out to the skies,
Beautiful, dark, suffistocated, like my mothers eyes,
We scream " let this be a tear for the earth,
I want it to flourish with rebirth,
Coffin or urn,
Preserved or burned,
I wish for all the world to shed their cries,
Because the starlight in those perfect eyes, have died,
These are no mere eyes of the human senses,
These were life giving, and holy, without mention,
Not many knew the man who they belonged,
they know that he, his family, his friends, we're simultaneously wronged,
But the battle rages on with the warriors laid in the sand of time,
The emptiness of the absence weighs on the remainder's mind,
with a wrath meant for lifting up And constructing our lives,
It's plagued by the people already infested with lies,
Exhausted By every exhausted opportunity,
We are tired, we are broken we are bruised,
And below me I see that it's life or death to choose,
I want to lay down in the mud until I'm trampled into sadness,
.... I have loved ones to protect from this ongoing madness,
I miss my commander deeply,
And I want to see him dearly,
So soldier on we must, 
Until we're turned into dust.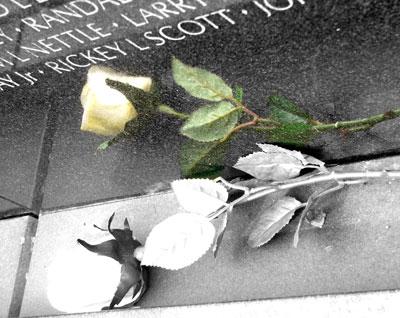 © Kimber E., Yorktown, VA