Porcelein Doll
May 2, 2012
Pill time, capsule, tab, bite down, swallow now, don't hide from the taste.
Shiny, hard, the magic of medicine, let it set thick in your throat.
Heavy in your chest, gasping, can't breathe.
Open wide, knowing you can't hide, flesh torn open down to the marrow,
Taste it, burning, churning, acid.
Take the bottle, finish them all, and your dizzy, spinning, round and round.
Discover the beautiful dance of death. Waltzing on the edge of consciousness Taste it, drink it, suck it up, metal blood flowing free, dripping, dropping,
Don't stain the halls, bleached and scrubbed until they are free of evil.
Staining, waning, hear the haunting song. The memory that will not fade.
Oozing pus, collect yourself, now you're thinking, stinking, drifting away.

Search for it, struggle, straining against your restraints.
Your mind is throbbing as the chemicals rob you of angels and demons.
Don't scream as you inspect your monsters, plucked away, now your home.
Mind is blank, perfect and silent, their work is done.
Flitting around, soak in the sun.
Lick your lips, mucus, bile, sweat, yum.
Powder your face to cover those scars, painted lips red with blood
Now good little porcelain doll,
Who can fix your shattered skull?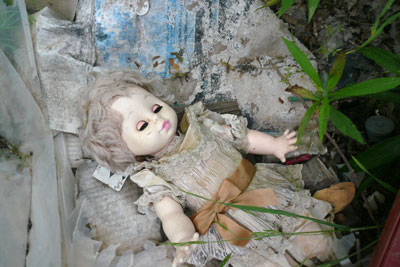 © Ashley J., McDonough, GA