Cat-Time
May 1, 2012
She purrs
I preen
Proud
To be honoured
By the approval
Of a cat.

It's dinnertime.
That's a special,
Free-love-for-humans time.
When she weaves
Through your legs
And my legs
And any other legs
Which happen to be near
The worshiped Friskies can
Of ocean whitefish.

Bedtime.
Oh, wait -
For me, and
Not!
The cat. No,
It's playtime.
Attack the feet.
Watch them worm
Out of your grasp.
Pounce on them, again.
Listen to your owner sigh.
Meow!
And come close
To her face, to let her know
Just
How much you love her.
Crazy cats.

Two-in-the-morning.
Still playtime.
At this hour,
Playing involves
Cold, feline noses
On warm, human cheeks.
Nice, sharp, feline claws
On human throats.
Loud, passionate purrs
In human ears.
It's hard to believe that,
Come some Godly hour,
These rabid affections
Will be appreciated.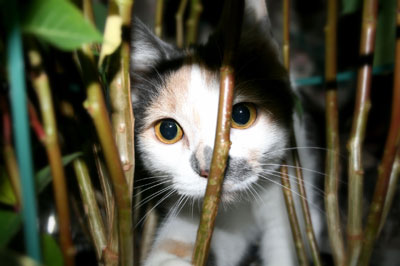 © Leah B., Kokomo, IN