The Hangman's Tree
April 22, 2012
Tensions build as the line of men come to a halt,
I stand at the end, but why am I here? It wasn't my fault,
A scorching summer sun beats down on us,
But we can't make a fuss,
Dry dirt blows in our face,
But we stay in our place,
Crowds gather in the town square,
A once happy place now filled with the convicts who dared,
A large tree stands tall in the center,
A small stage at it's base,
Two grimful reminders of my fate.

A stout man takes center stage,
We are the lions in his cage,
The crowd of anxious men, women, and children silence, waiting for him to speak,
"Ladies and gentlemen!" he cried out in delight,
"Justice will be served here tonight!" He grinned at the crowds cheers,
But I sank back into my fears.
"Don't you ever sin," my mother once told me,
"Or the Hangman's Tree is where you'll meet your end."

Now I stand before the tree,
Falsely accused of a crime I didn't do,
But the world doesn't have a clue,
I'm innocent, can't they see?
Why won't they just leave me be?

I am innocent,
But they are convinced,
I now stand before the tree,
A mocking sight this must be,
For the murderer will be killing me.

He stand tall and proud,
Sending innocent men into the ground,
He is guilty,
He is to blame,
But he has no shame.

Alas, my turn is next,
And I've done my best,
But I've become the victim,
I've become the shamed,
But I've taken the blame.

I step onto the stage under the Hangman's Tree's mocking glare,
Under the crowd's hateful stare,
I stand there in pride,
I stand there knowing that God is on my side,
As I watch my final sunset,
As I grip onto the life that's left,
God knows the truth,
And he will make things right.

The crowd is silent,
Tensions are high,
And I find myself blinded under the murderer's watchful eye,
A slight pressure around my neck,
A baby wails knowing that her dad had failed,
A tear falls down my face,
And the Hangman's Tree sealed my fate.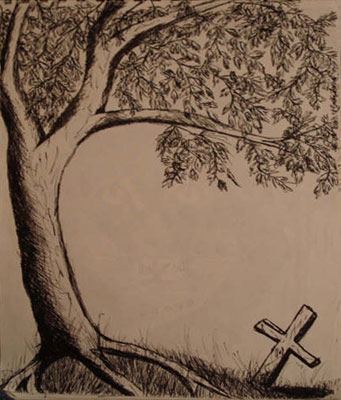 © Courtney K., Bethel Park, PA