Rapture
April 15, 2012
As each white electric fissure
Divides the continents of sky,
As each vicious, snarling argument
Vibrates the sternum of the night,
each sleeping, breathing thing,
Awake now in their own Technicolor
cosmos
Tumbles weightless through
Enlightenment,
Their thumping heart
In mad throb
With the beating of the rain
Each drop a screaming suicide
To be martyred
As it lands.
Behind every eyelid
The subconscious entertains a
heightened fix of sweet
Insanity;
With each twitch of the optic
Nerve
The colors bloom
in chaotic perfection,
A mosaic of kaleidoscope
Decay.
Like an anesthetic to the agony of existing
each dream like
Pastel pills from child-proof plastic
Bottles,
(take every twelve hours if symptoms persist)
Lining shelf after shelf in the world behind
The looking glass,
They are little toxic
Freedoms,
But the Day-Glo fades
And you have to wake
Up,
Dying in a better world so you can live in
This one, each tragedy more
Bitter than the last.
Every wicked pulse of
Blood and air and
Air and blood
Through veins and arteries and sinews
Counts out how long until you can spiral again into
Pandemonium,
Each paradise lost a gratifying trade
To shed your skin and feel the colors
Constrict against muscle and bone,
Pulling you farther into the
Infinity of
bliss.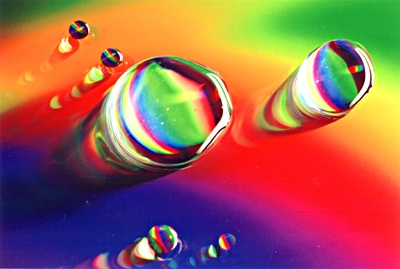 © Matt D., St Peters, MI