Where are You?
April 9, 2012
I lay here
On my cloud
Floating high above all that is below.
I pretend I do not hear
I pretend it does not matter
I pretend I'm somewhere else and that you are far away.
The two of you sit
Deep in mud
Sharpening words to throw.
Fighting as if there is no end
As if the world will fall
If neither of you win.
My mind wanders
My eyes squeeze shut
She's a teenager
I whisper
It's a phase
I convince.
But my heart aches
And my mind remembers
How your teenage phase has lasted five years
And I'm fourteen
And have had none.
Maybe you stole mine
Slipped quietly into my room one night
And took with you
All my temper-tantrums
All my fits
All my anger.
If you did I am not mad
In a way you saved me
I do not have to know
What it's like to cause so much pain.
As you slam up the stairs
And shut your door hard enough to rattle the house
I wonder how you don't see it
The tears that flood Mom's eyes
The little tear that rips across her chest
With each word that slips past your lips.
Silence on the surface
A scream in my mind
Shouts of anguish
Of pleading.
Where did you go?
Where's my big sister?
The one who was more about love than looks?
The one who reached for my hand
Eager to be the best role model I could have?
The one whose day wouldn't be crashed
By a bump in the road?
The one who controlled and bossed
But still loved
And desired?
The one who wrote
Who drew?
Who had a passion for everything?
Who had a passion for life?
The one whose dreams went so high
That they came close to reaching
The limit above the sky?
The one who hoped and believed?
Laughed and smiled?
The one who loved
To love.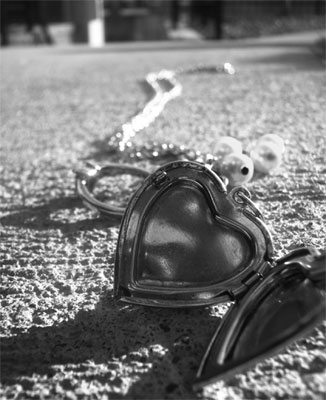 © Francesca Y., Robbinsdale, MN