Finally Found
March 15, 2012
The sweet gentle wind,
blowing nature's intricate vine veil;
Their only cover,
allowing me a glimpse
of their clandestine haven

Believing to be brilliantly hidden
in an unsuspecting locality,
Humble creatures, they are,
they have been finally found.

It's victorious, to at last see what I've only heard,
their cherry shade illuminating the murky corner,
cooing and melodically giggling, even in mute,
I envy their grace, but they are still so much more than even that.

So protected, and huddled, they are.
But why? Why in the shadows?
Such marvels in a mob of secreted green!
Why not blossom for all to see?

Just as finding a rainbow's end,
Or a diamond in the rough
If some things were so easily found
They wouldn't be so mystic, in absence would be the hunt.

Swaying in distraction, expressing distorted shapes,
Evoking curiosity with silhouettes and ripples,
the water has done all its could to protect the blossoming beauties,
What flowering preciousness it beholds, in a cornered place.

And of this clandestine haven,
I have finally been given a glimpse,
And their only cover;
Nature's intricate vine veil, has been blown,
All by the mystery of the sweet gentle wind.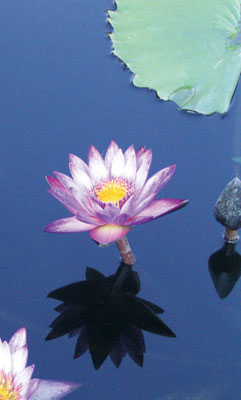 © Hilary B., Barrington, RI