Perfection
March 10, 2012
What is perfection?
Some say it does not exist.
Nothing can be perfect, right?
Wrong...

Perfection is different for everyone and every thing.
It's hours of practice, and hard work.
It's tears, blood, and sweat.
It's asking for help when needed.
Perfection is not simply made, it's earned.

It's a stray hair.
No make up, or fancy clothes.
A simple laugh, and smile.
Or maybe the way she looks at you and says, "I love you".
The sensuous curves of her body.
The touch of her skin on yours.
That is perfection in his eyes.

It's an unshaven face.
Rough, calloused hands.
And a sweaty body from a hard days work.
Possibly the way he holds her late at night in bed.
But most of all the feeling she gets when he whispers, "I love you".
That's perfection in her eyes.

It's nine months of hard works.
Many hours of agonizing pain.
Then it's ten little fingers, and ten little toes.
A small cry when they place it in your arms.
And then a tiny smile that lets you know you're a parent.
The joy that overwhelms you.
So surreal, it's almost a dream.
A baby... That's perfection in their eyes.

So I guess you could say it's the little things in life that make everything worth while.
The love.
The laughter.
The happiness.
And even the pain.
It all amounts to something grand.

Now that..
That is perfection.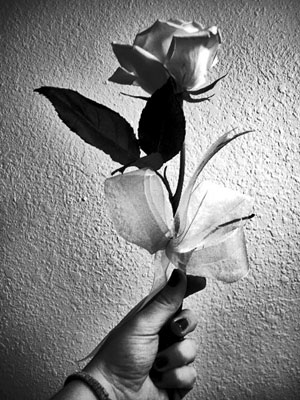 © Lauren R., Edmond, OK