Up in smoke
February 25, 2012
In my isolated twin bed I lay
thinking...
about the shadows that lurk,
watching me from the dark corners of my room.

A thump.
A screech.
A slam.
I hear my back door,
glide open,
then slam shut.

Is someone in my house?
I listen for footsteps,
but I hear none.

Paralyzed in fear,
I work up the courage to investigate.

Finally, I slip out of bed
and creak down the hallway.
I peer around the corner...
Nothing.

Slowly, I advance towards the sliding glass door,
but it is too dark.
With a quick sporadic leap,
I flip on the patio lights.

There he stands,
with the one thing I fear the most.
Our gazes meet.

It's my brother.
And hanging out of his mouth,
a cigarette.
Lit.

My brother smokes!
The one I looked up to
is doing the thing I look down on.

What do I do?
I can't tell my parents.
He would think I'm a tattle-tale.
So there I stand,
and with one glance
My decision was made for me.

I wouldn't speak of this.
I couldn't speak of this.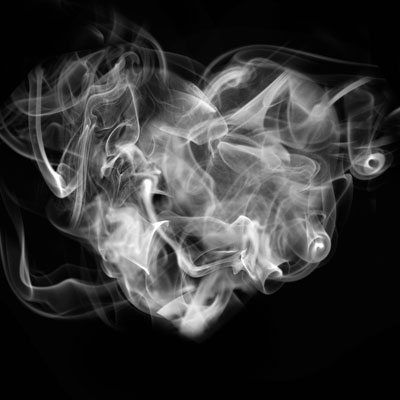 © Olivia E., Alto, MI