Why me?
February 28, 2012
Mom comes through that beat-down door,
walking slow,
soaking wet.
I see her… makeup runs down her face.

Her face
is just
drained
of all happiness.
I know something has to be wrong.

Her depressed look surrounds me
with each step…
Her soft, freezing hands graze my led,
and I know
that she is hurting.

Those big beautiful blue eyes soften
and she says in a distant voice,
"Tim Arnett is dead."

The words hit me like a bomb.
I can't move, breathe,
or even see.
My world
blurs.

All I see is that door.
That useless
door.
Every memory with him
runs through my brain.
Tears instantly pour out.

All the family is coming through that
beat-down door.
I can't.
I won't.
I run.
As fast as I can.
To anywhere
but here.

Out the door, down the street,
on that ice-coated road.
In my t-shirt and shorts,
I am unable to sense the cold.
Only sadness and pain I can
feel.

All I can do is scream.
"GOD WHY? WHY ARE YOU DOING THIS TO ME?!"

My heart pounds.
My thoughts spin.
My throat burns.
I cry and cry and cry.

The cop headlights are approaching—my vulnerable heart is
more than visible.
"I am really sorry about your dad.
Everything is going to be fine."

I couldn't even listen.
Honestly I didn't care.
His comforting touch
made me want to cry
even more.

Crying on his chest,
powerless and weak,
with my tears all over the seat
and his flannel shirt.

I sat in my driveway, emotionless;
too sad to even feel anything at all.

Dad's best friend inches toward the cop car.
I can't talk to him; not now.
Not like this…
He gets in the car.
Sad eyes.
Sad voice.
Sad touch.

"Katelyn, you've got to be strong for your mom."
Then my mind came alive.
Realizing how selfish I am.
Running. Running.
As fast as I can.
To see her… cry with her.
Hug her. Miss him. Together.
Love him.
Remember him.
Grieve.
Together.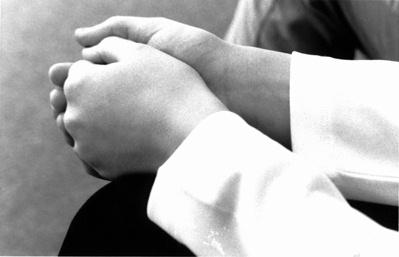 © Sarah G., Greensboro, VT