Old Friends
January 24, 2012
My shoes are beaten up.
Worn out.
Years ago I had gone into a store and picked them out,
Taking my time and weighing every option
Finally deciding on the crisp, clean,
Candy apple red that stood proudly on the top shelf.
They sat up high and smiled down at me,
Promising lifelong escapades and endless exploration.

Now, other peoples' writing tattooed the sides.
When they had gotten bored and worn out in class, they'd write notes on my shoe.
I'd look at them later and smile.
A hole mortally wounded the canvas.
From the time I decided to climb a fence.
I was convinced the park on the other side
was going to be amazing.
It wasn't worth tearing my shoe.

Salt stains ran up the sides,
From when I had refused to put on winter boots.
Hating the "clomp, clomp, clomp,"
The loud voice
Of the heavy shoes.
Preferring the quiet
Comfortable
Worn out
Sneakers.

I remember when they were new.
When the side decals were intact.
And they had hugged my toes tightly,
But still perfect for me.
Now they are not as clean
As they once were.
Worn out.
Tired and wanting rest.
Smell faintly of beaches, trees, grass, dirt and feet.
But even through all of that,
All of those adventures and trouble,
They still kept me going.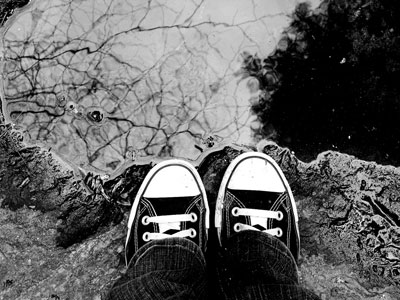 © Michelle B., Blairsville, GA