Do it Gently
January 16, 2012
Never leave claw marks when letting go,
this wet towel of a heart draped over your hands.
Expand your fingers like exploded palms.
Cherish the moment like a still hummingbird.
Celebrate the vacancy, this shift and sweep
of old self you gift in death for the gravedigger,
a plot has two good arms to care for flaws
you can't afford to feed these days.

Consider a minute from now like a newborn's throat
filling with first breath, how pretty the swirl
when color of blood rejoices in the tiny cheeks.
Look up. See the parade of star and name the constellation.
See it every night, and even each day, it is still there,
behind sunlight, staring back, twinkles of light in applause

as if the universe is convinced you are grateful
for the supernova you came from, the hurricane
finger that metronome-d trees to pace your pulse.
Faith is knowing your hands were never meant to
be empty, knees rooted until what is meant to land,
lands, and this hunger is a wish to nourish the moan
in others, and it is in this burst of truth your heart endures,

you were never the teeth, but always the meal.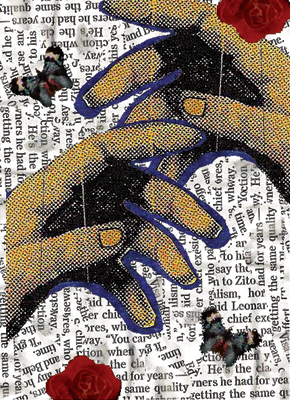 © Christine S., Arlington, VA