Control
January 8, 2012
It is mid July and the sun beats down on my mud stained, sweat glowing skin.
The sun rays burn like a branding iron.
Age 12
I feel freedom for the first time without parental presence.
Do what I want without consequence?
The loss of Control's hands.
My parents' guidance and support may still be needed.
Conscious controlled functions-
laws, institutions and boundaries are necessary for mans' pursuit of freedom.
I stay at a large cattle ranch
in the central part of Mexico,
Chihuahua.
A small, rural town infused with the stench of manure.
My friends and I ride quads used for chasing cattle.
All the cows run from the brander.
Hell!
We have a competition. Who will catch the first calf?
The rancher says if we catch one, we keep it.
I lasso a cow.
As the fire heats the branding iron,
the cow fights the ropes.
I engrave my initials in the cow's muscular thigh who is without will or consciousness.
The sizzling, blistering wound sears my mind.
Symbolically, freedom is lost and Control is gained.
The independence of man is unconnected.
Limitations are created.
I am more than my senses.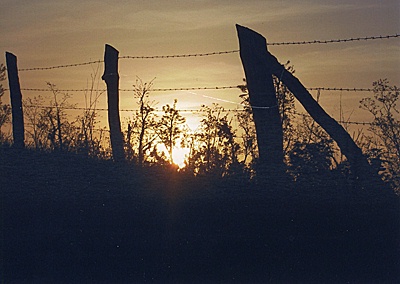 © Michael T., Letart, WV