Is the World Beautiful?
November 12, 2011
People say it all the time-
"The world is beautiful
Life is wonderful
Isn't it just great?"
I nod
But really, I don't see the beauty in the world
The wonder in life
The greatness in whatever "it" was.
I've seen nature at its peek
Tromped through the forests of Oregon
It was beautiful
Stunning
I didn't want to leave
And that's what made it ugly for me
I was ripped out of the beauty
Taken back to the middle of nowhere
Where it's hard to find beauty.

Maybe, if I had made different choices, I'd like life
Maybe, if I cared about my schoolwork, my parents would be happy
Maybe, it I'd never tried new things, my life would be simple.

Maybe. Maybe. Maybe.

I hated the word.
Yes or no? What was it?

As I type this, I am constantly listening.
Was that my parents' door?
Could they hear the "clit clat" of my keyboard?
Were they going to storm in here and take my laptop?
My stereo?
Everything I hold dear?
All for what? Writing?
Doing something I enjoy?
Using my time to be productive rather than lay there
Wishing I could sleep
Wishing sleep was something I cared about.

What do I care about?
Art
Him
Art
Peace
Equality
Art

Him.

What do my parents want for me?
A full education.
A solid job.
No, not a solid job.
They want me to go to seminary school.
They want me to be a pastor.
Me?
A pastor?

I'm going to be an artist.
I don't need my parents.
I don't need their permission.
I don't need their guidance.

And I know, someday, I'm going to wish that I had listened
That their words were wise.
But not right now.
Not today.

So the world, is it beautiful?
I can't tell.
I can't see the beauty.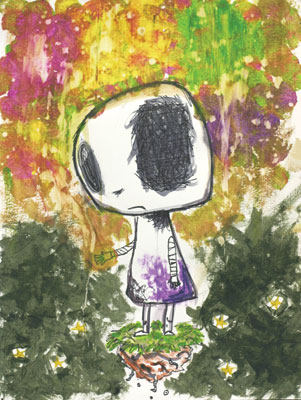 © Ashley W., Port Charlotte, FL