What is Me?
December 26, 2011
What is normal?
Because I am clearly not it.
Or says the girls in the locker room.

"Not normal," they say.
"A giant freak," they shriek.
"Needs to leave Earth and return to where she belongs!"
they shout.

Nope. I am not normal.
Or regular. Or right. Or cool.
So what does that make me?
Not lame. That word is saved for the poor boys who try to flirt with the popular queens who rule the school.
Not nerdy. That word is targeted to the kids with taped glasses and carry pocket calculators.
Not goth. That word is spit scornfully at the teenagers obsessed with spikes and blood and death... Not me.
One word remaining. The one that I'm labeled.
Weird.

So what is weird?
Because I am clearly it.
That word is whispered around me everyday of my life.
What is the reason for it?

I guess weird could be my clothes.
Mustard colored shirt with magenta jeans.
I guess weird could be the way I talk.
With humor and sarcasm and occasional Pig Latin.
Weird could even be how I look.
Super pale with a gillion freckles and yellow eyes.
There is something about me that's weird, or not normal.
And I don't know what it is.

Maybe I need to know what's normal about me first.
It isn't pink hair, or black makeup, or hideous clothes.
Not funny hats, or a growing obsession for anime.

Not a collection of giraffes, or a strange fascination with the stars.
Or going to bed in a sleeping bag in your own house.

It's not playing outside while it's raining.
Or sometimes wishing you had wings.
Walking down the streets with loud, fast music
blaring out of your ear buds.

It's not singing to your cat.
Chewing watermelon bubble gum with braces.
Not liking any food that ends in berry.
Or crying just for the satisfaction of knowing you can.

Those are definitely not normal. But if they're considered weird, so be it. I've learned to accept it.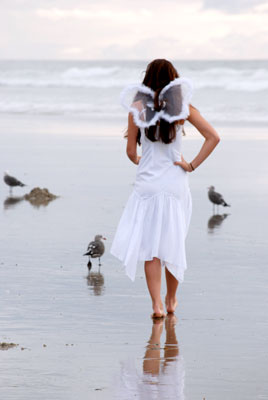 © Junia Z., San Diego, CA