People Poem
December 15, 2011
For my people… symbolists, those who read: signs, people, books. The broken but healing, tired but persevering. My people of caution and adventure. The rattlesnakes of our community. The ones whose imagination go unknown. The implicit few…
For my people… whose words go unheard, accept by one. The strivers and silent workers. My unknown friends in belief. For who feel red and see blue. Balancing on threads of opposition, quiet without answer or rendition. Those who's souls feel lost and without. For all watching anger molding words. The visualist with limited vocals, scare of the unyielding crucible. Blackened by nescience.
For my people… All who avoid confrontation. Those whose personalities stay unidentified outside of a focal shell. The implicit few… whose feelings and speech works to mend and help. Every shadow, ever cat, every mouse, every wolf, every… one. Every light dimmed with every minute. Second guessed and guessing terrified and undignified. Lost in weather or in reminiscence. Eluding or alluding a six—seventh sense.
For my people… who question to themselves not critically but curiously. For the singletons within the crowd waiting for a break. For even the little ones who's lives aren't quiet perfect… every—one. For all whose greatest defection is imperfection. Studying through the eyes of an owl prefacing, pedaling, flying, dreaming—studying. Instinctive and clear.
For my people… lost in journey, conveying…comparing… contrasting… contradicting… thinking past legal limit. For those words are not understood therefore ignored. To all these people rejected in opinion and discarded without thought. And for all my companions whose light is a metaphor. To my companions of a relationship and religion.
For my people… who see more… know more… understand more… understand different… detect more… and reflect less… My People in which we plague ourselves. Haunting memories good or bad—solace or demon. My people struggling to separate two lives balancing again and again. Perfecting each cycle we run.
For my people… the changing… the understanding… the loving… the adapting… Those with a nonchalant mentality brought on by past. To all whose heart feels heavy yet- weak but continues anyway. Every step another silent victory. To all who write without thought, unless about others. Every day a song written with a staff of the morning, every note an emotional parallel.
For my people… who cope varyingly… with "friends", school, home, scholarships, driving… life. Whose mind searches for knowledge and a heart thirsting for a stronger, sturdier love. To my people whose place has yet to be found but attempts to see the rainbow through every rain. Girls and boys living to their fears not abilities: social, emotional, physical. Rolling with each punch, making due.
For my people… the questioning, the curious, implicit, inquisitive few. Questioning motive. Curious for answers. Inquisitive of, on everything. Beliefs confusing—yet compelling drilled and memorized. Questioning the why's… curious to learn. Implicit speak and inquisitive love. The one's who hang on to thread when rope isn't available. To the Survivors.
For my people… believers, lovers, listeners, talkers, hiders, criers, shouters, even the laughers. People of virtue, love. My people are blessings, my people are disciples. Replenished with astounding light against attempted blight. Those who continue. My people… the implicit few, the rejuvenated and replenished few. Whose drug became life and silent virtue.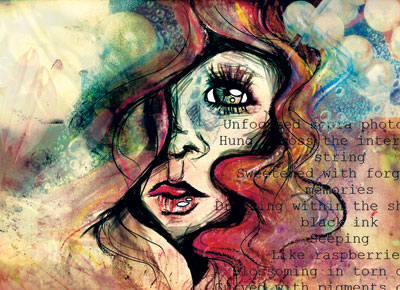 © Victor K., Las Vegas, NV