Blood.
December 11, 2011
Sometimes dying would be easier
Than sitting alone in my room
All day with
One light bulb, flickering, on and off
Like the glow of my beating


heart.
The destination I seek shouldn't be so far away
For, it's right beneath my passionate fingers
Grasping and trapping the fluidity of the oxygen
But it's escaping my reach.
The best option is to scrape the dead pieces
Away, to reveal the living inside.
To make myself feel free, feel alive.
I want. To. Be. Alive.
I want. To. Be. Dead.
They say small things add up. And I believe it.
I have no contact with the outside world
I have contact with the skin on my wrist.
Cut. Blood. Gone. Yes. Feels. So. Good.
Feels. So. Right.
Yup.

Andrew and I have it
Made.
Our love is unbreakable, nothing, not even
Mother nature's strongest forces could ciez
The hearts and fouls and sorrows out of
The depths of our souls. Not even
Mom.
Enough with the poetic
Junk.
Enough with the pain and depression. I
Feel
Enough with the bruises and tears and
Blood.
Enough.
Running away seems like a pretty good option,
But it can't be. I have to stay where my life is.
I have to stay with school, grades, friends.
Wosrt of all: family that hates you.
Sure they say they don't, but I know they do.
I'm a mistake.
Always will be.
Never thought of as having a real place on this Earth
No destiny, no fate, no courage to stand up for what is right.
No say in anything
My opinions don't matter
Never mattered.
The only one that matters is the one coming from the old hag.
And maybe, just maybe, sometimes, not always
From the annoying one.

Andrew is here for me, so might as well use him.
In a good way. The way boyfriends were made to be used.
He'd help me escape from it all,
No matter what the day had brought me earlier

Depression is a dark place I'd hoped never would
Find me
But unfortunately for me, it did. And no one
Knows it but me.
At least I can admit it.
I wish I could say that dying wasn't an option.
Or blood.
Or running away.
Because deep down I know it's cowardly.
But I have nowhere else to turn.

Everything's spiraling out of control.
The walls are caving in on me.
The snapdragons snap the air with velocity so strong
It slaps my face like a rollercoaster.
I'm down. Crouching. Waiting.
Hopefully my misery will be drifted into the
Shadows of Andrew's heart.
Hopefully one day people will see it my way
I have good points. I know I do.
But no. Snapdragons come back not twice,
But three times
Grabbing for the things I live with, yearn for,
Yield to society
I try to fight back, pushing anything in the way I can
Find.
The garden is a mess.
Soil toppled over. Flowers on top of other flowers.
A mess.
Sincerely I lay, cut wrists, open legs, face on the ground.
Andrew can't save me.
This time it's for real.

Sometimes dying would be easier.
And now you know why.
Blood is in the air so battle the stench;
Don't do anything. Let it sting.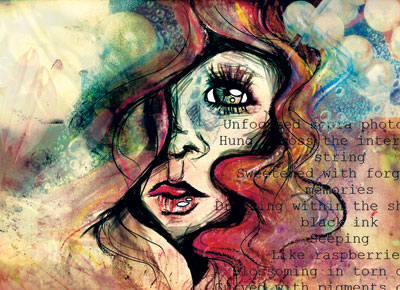 © Victor K., Las Vegas, NV