Cement Picture-Frames
November 27, 2011
No longer are you looking at yourself in cracked mirrors hung lopsided on the paint-chipped walls.
Running up and down the stairs in such a hurry to disappear behind your door,
like running from attacking dogs.
No longer crying loudly into the night so you can grasp an ounce of importance
from at least the moon in the sky,
as it creeps behind your window curtains to watch you each night,
and gently close your eyes.

No, no more band practices on your body,
bruises and swollen lips from excessive drum solos.
Leaving for school with large woolen hats on humid summer days when the sun blinds each person, a moment when all are equal.
And listening to mothers shout, "Now kiss me and say goodbye."
When your own is home alone and drunk, dreading, dreading, for your father to arrive.

You're not alive unless you're living, they say. But you're not dead either if you aren't.
Repeating this to yourself before school everyday, and when you're pretending to sleep when glasses shatter every night.
And you keep hearing that all will be different, better in some way.
But the voices, once so loud and rough, are now like whispers from a ghost, sitting on your shoulder, mouth wide open all the time.

Looking back, sunshine days and silent nights, so few,
So many tears held back, while dry sadness blinds your view.
You glance at the hallways while your walking past in the familiar dreary place,
And you glance yourself, your face,
No colorful images to display along the bumpy walls of gray,
Instead only you, held securely, in cement picture-frames.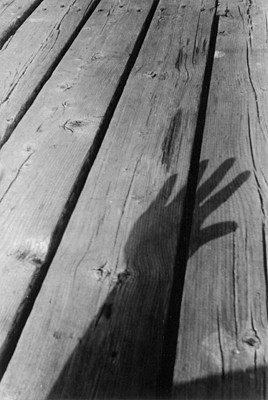 © Janet D., Marblehead, MA