Whirl
November 27, 2011
Slow
Slow
In control
Your speed picks up
You lose it all
Your senses are gone
Your arms flailing
Lost in a sea of air
Without any control
At all.
As the world becomes
A smudge,
A blur of colors
All mixed together,
The noise of life around you is
Gone
And you feel as if
You're fading away,
And one thing holds you
From falling off the edge—
The only thing
You can do—
Is be you
And you alone
Your life as clear and pure as the
Soft blue sky above you.
Your thoughts heard by you
And only by you alone.
No one telling you
What to do
Or
What to think.
It's all
You
Untouched, a free spirit
Your soul is on fire, shooting
You to the sky, a
Feeling of pure joy
And weightlessness
You are a kid again
Holding wildflowers
Twirling,
Whirling,
Just because you want to.
And you don't care
What other people think
It doesn't matter.
You are innocent.
You
Are
Free.

And just like that
It's over.
Back to reality.
And as you lie
On that cool, sweet grass
The world spins sideways, your head aches,
But it probably happens
To pay for that moment
Of innocence.
Of purity.
Of you.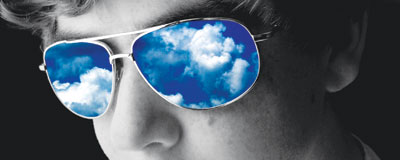 © Joseph B., Mesquite, TX