Breeze in the Hall
November 27, 2011
you push us around, stomp on us all

the look on your faces, as we fall

with a fear deep within that you might doubt

watching us cry, scream, and shout.



you treat us like dirt, say we're the mistake

we don't deserve this torture, the problems you make

until we are nothing, you keep filling us with hate

over the edge, and then its too late.



do you see what you've done, the people you have become

turning us cold, empty, and numb

stop what you're doing, step back, seize.

Before you've crushed us, and we drift away, like a breeze.



along the walls, others watch, amused

while the rest of us stand there, being abused

a crime being committed, nobody will speak up

being torn apart, by rumors and gossip



will anyone stop it, will someone be brave, or will one more person, be sent to their grave.

there's a breeze in the hall way, and it chills up our spines

we never understood , but it was our fault,

the question is...

who's next in line?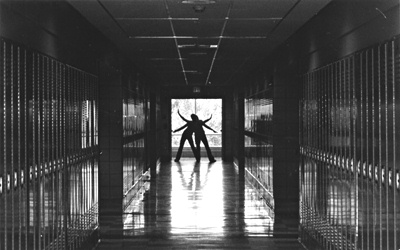 © Sheera G., Marblehead, MA