A Boat
November 17, 2011
Onslaught of awaiting danger,

Conflict at its brink,

Like a sea on on a stormy night,

The boat willing itself not to sink.

Engulfed by dread,fear and hopelessness,

With unnerving certainity,

Tries to hold itself together,

About to give up for the calamity.

On the edge of breaking down,

Hiding a solitary glistening dirt-streaked tearstain,

But then, it remembered one thing,

The sun will break out again.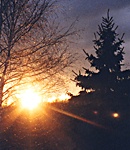 © Christy S., Germantown, NY