A New Beginning
October 31, 2011
I felt lonely.
Completely alone.
Like no one could hear me scream.
Like no one really cared.


I felt empty.
My face held no emotion.
I looked straight ahead.
I needed someone to talk too.

I felt angry.
I wanted to scream at the top of my lungs.
Even if I did, would anyone hear?

I opened my bible.
I needed help.
I knew I could not do this alone.
I needed God.

I prayed silently.
Feeling as if he was the only one I could turn too.
I needed God more than anything.

I prayed for wisdom.
I prayed for peace.
I prayed for power.

I just sat there.
Motionless.
Breathing in and out.
Lifeless.

I cry helplessly.
I wish God could've made me perfect.
I don't want to blame God for my problems.

I feel the need to blame someone.
I want to blame myself.
I pray for strength.

I want to be loved so much.
I know that God loves me,
But my loneliness keeps creeping up on me.



My tears keep streaming down my face.
I don't want to cry anymore, but I can't help it.
I pray for serenity.


I wonder if anyone feels the same way.
I wonder if anyone really cares.
I wonder if praying will really help.
All I can do is wonder.

I feel like a fly that everyone is out to get.
No one will listen.
No one understands.

I want to live my own life.
I am tired of people telling me all of what I do wrong.
So tired.
So helpless.

I feel sick inside.
I wish I could be sure that God was watching over me.
I want a new life.

I sleep.
God has given me peace.

I have stopped crying.
God has given me serenity.

I feel a joyful warmth around me.
I know for sure that God is watching me.

I now know that with God's help I can overcome my obstacles.
I decide to leave this behind me and begin anew.
God has given me wisdom and strength.

Tomorrow is a new beginning.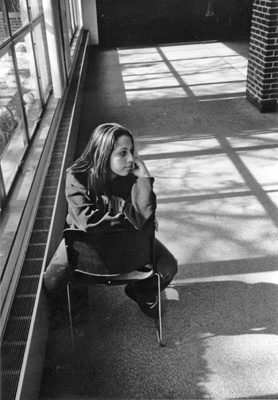 © Leighann E., Westport, MA