Dirt Road
October 26, 2011
There was a young boy
Who loved and dreamed of playing in the road.
Every day he would bring his toys to the road,
Not caring about anyone else,
Spreading them out on the road,
Making it look like something exploded.
He would play for hours,
Letting the few cars pass
That went by in the old shaggy town.

When one day, a blue pickup was speeding down the dirt road,
Kicking up rocks and dirt, you could hear the engine roaring.
It was coming towards the little boy,
As he is thinking it must be a professional driver,
No one can keep control at that speed.
As the car got closer and closer,
It began to lose more control,
Beginning to look like a fish that was at its last second of life,
It started to flip and then crashed.
Pieces flying all over, the person more than likely dead,
But it didn't look that bad.
There was no longer a truck anymore, it was gone,
Disappearing into the woods along the road.

The little boy still played on and didn't hear anything.
He still plays in the road till this day,
Not remembering what could have happened to him,
It's his favorite spot, always playing and saying things,
No one can tell him different.
It's a road, it can't be that dangerous.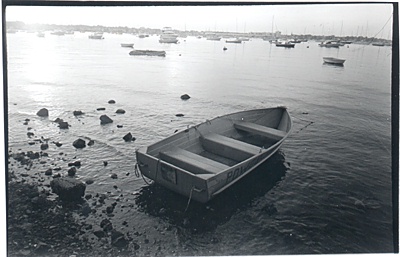 © Chris M., Marblehead, MA