Remember Me
October 21, 2011
I remember when we were little,
and mommy had to work double shifts
-just to put food on the table.
You were only 3, I was only 8.
-That was before daddy got laid.

I remember when Grandma broke her back.
All I ever wanted to do was hold your hand.
but one day lead to the next,
yesterday is over.
-there's no going back.

I remember one Easter morning,
we drove out to the big farm house,
just Cody and me; you weren't even born.
I found one egg at a time.
-That was before gas prices were sky high.

Now I'm sitting on my bed.
I've got this feeling in my head.
You were my little sister,
-but now I can't even say I miss ya.

I loved you but you've always hated me.
I remember how it use to be.
Playing outside every day,
camping in the front room,
playing dress up and watching tapes on the TV.

But I guess you grew up,
You dont need my hand anymore,
or that step stool to open up the bathroom door.

And I remember when daddy would come home.
He use to work all week as a truck driver,
buying us little toy farmers at the TSC store.

One morning you work up,
mommy was still asleep.
Daddy was gone. . .
-he took Cody back to live with Nancy.
All you had was me.
I crawled into your crib and whispered,
"Shhh, now go to sleep."

I remember when mommy left daddy,
Their relationship just wasn't healthy.
You and mommy cried,
-but my eyes were dry.

Ever since then Cody and daddy have been gone.
Daddy is in Heaven and Cody just moved right along.
You won't even say kind words to me.
You hit me and laugh, you think my pain is funny.
You only love mommy...

Maybe Kaity should just leave.
But every time i start to go,
I hear you scream,
"Stop, don't go! K.K. Please!!"

What am I supposed to do?
Who am I supposed to see?
We've both had councilors,
-but not even a genius could help me.

I remember once while you were one,
a tornado had just passed by.
All five of us were in a car,
driving so fast we could fly.

I held your tiny feet,
so you wouldn't slip away.
Now it's a different story,
-but it's not rightfully mine to say.

What pains me most is that you try,
you try to be like me.
I tell you I'm a bad role model,
but obviously you cannot see.

I have come too close to death,
I won't let that be you next.
You and Mommy are the only Sherry's I have left.
Without you I would be a mess.

I might as well stay.
After all it's just another hurtful day.
We all want to quit our jobs and sleep in all day.
But I can't let this pain get into my way.

I hope you have the strength to see,
I'm your sister not a monster.
And I will kill any monster that tries to hurt you, baby.
Remember me? I'm sissy. Kaity.

Mommy and daddy will find each other someday.
And I promise you baby girl, it will be okay.
We will reunite some day.
Even if that day is far away.

I remember when we were little,
I would chase you around and call you bubbles.
But now I'm done chasing you.
I don't want you to run from me.

Catherine won't you forgive me please?
I know I messed up,
I know you were hurt.
But I promise I'm sorry, you have my word.

Remember me.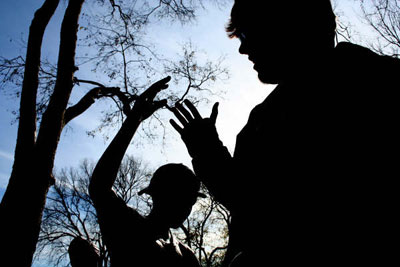 © Katie G., Richmond, VA