Reflection
October 15, 2011
I stare at the mirror.
Mirror stares back at me.
Every feature
Every detail
of my face.
Every imperfection
adds color to this painful pane
of glass.

What color is a mirror,
anyway?
Surely not black of green.
Definitely not pink or yellow.
At the
perfect angle, the side
reveals hues of blue.

But my face is not tinted turquoise.
Nor the color of the sky.
The mirror should be
invisible.
But invisible
doesn't shatter.
It won't smash across the floor
in a once-cynical pile of death sugar.

Are souls the color of a mirror?
Auras don't exist
(or at least not to me)
They're just imagination clouds.

But souls do exist
I am sure,
or we are nothing
but mindless drones.

Are souls but mirrors
reflecting the world?
A mere reproduction
of who "they" tell us to be?

Or are we just panels of glass
waiting for more to reflect
until
we
shatter?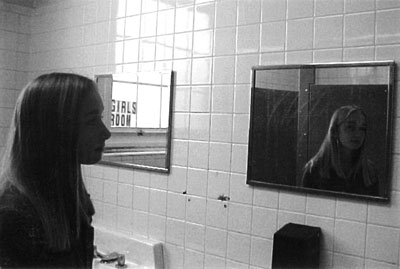 © Jill H., Pompton Plains, NJ