I Am From
October 4, 2011
I am from a little hospital in the middle of nowhere.
Placed in the babies' ward, with all the other newborns of the day.
8 pounds, 2 ounces, with a head took up a large percentage of the weight.
Born from my mother's pride and my father's joy,
I am from God's creative (and somewhat ironic) hands.

I am from a house both full of laughter and sadness,
Of both noise and quiet.
My grandmother's laugh, my aunt's tears,
My uncle's chortle, my grandfather's grim face.
I am from a family of fluctuating, unpredictable emotions.

I am from the smells of my grandmother's cooking,
The chicken from the backyard simmered in oil, plucked my grandfather's hand,
The rice cooked into porridge, "no veggies please!"
My father's glint in his eye for childhood candy,
And my little sister's pudgy hand reaching for fresh picked fruit.
I am from a kitchen of heaven.

I am from a box of moving pictures.
Snow White, Cinderella, Mulan, Pocahontas, Hercules,
That handsome man that's whispering, "Promise me, Rose," in the ocean while the lady cries.
"Daddy, rewind it for me!"
Dog and cats connected, toddlers creating messes, the world of trainers and Pokémon,
I am from the fantasy world of cartoons and movies.

I am from the ice skating rink and the horse stable,
The dance studio and the backyard soccer field,
The afterschool halls and the piano room,
I am from a waning persistence.

I am from the etiquette class with Ms. Mom,
"Sit up straight." "Don't talk to your father like that."
""Be nicer to your sister." "Eat slower."
"Speak Chinese." "Don't cuss."
I am from a class that hasn't taught me much.

I am from a Chinese culture,
Where slippers are worn around the house,
And medicine consists of unknown dried up plants (that don't look too good).
Where red pockets are handed out and chopsticks are used,
And bird's nest and shark fin are consumed.
I am from pretty weird beliefs, but I'm used to it.

But in the end, I'm just simply from that little house that sits on the side of the road. Where laughter rings throughout the night, a smile is on my face, and my heart is content.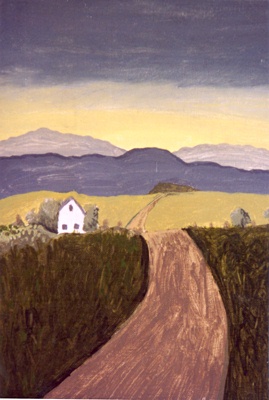 © Alisa L., Tracy, CA