The Voices In My Head Call Me Dear
October 16, 2011
Pull your sleeve down lower, dear.
Your insecurities,
Your insanity
Is infected.

Slump in your seat some more, dear.
You know you don't fit in.
Wonder if you're lost or found
And finally stand up, empty-handed.

Wipe those tears away swiftly, dear.
They can see how they burn your skin.
You can hear them whipser secrets
That you never knew were yours.

Fake a smile on more day, dear.
They don't have to know.
Surely they are oblivious
To the life you live when you're alone.

Fall down on your knees, dear.
And never get back up.
You know you don't have the strength
And you'd feel pathetic if you even tried.

Wait a moment, dear.
You may pull through yet.
Make it another day
And you'll breathe easier, I promise.

We're all so very proud of you, dear.
You threw away the razor
And threw away your tears
And replaced them with a real smile.

Again, we're so proud of you, dear.
You did this all by yourself.
Remember this, dear,
When it all happens again.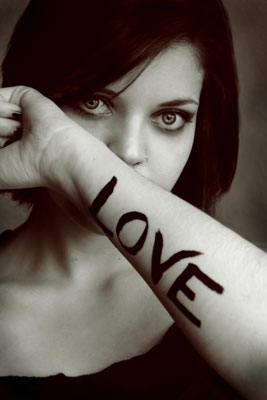 © Michelle B., Blairsville, GA