The Limit of Light
September 22, 2011
A nearly smouldered flame
It's dim, but light expands far into the black void beyond
Embers I carried burned all nearby
I took and seared more than required.

I am evanescent.
I am a star tethered to a mountain under a heavy storm,
suppressed by rains and winds that choke my blaze.
Solar energy is welcomed by all in my system,
but those who need it are far in dark oblivion.

I slowly expand,
distraught by a depletion of elements.
My destination distant,
Path projection shielded by opaque wanderes.
Unable to predicted, my advance continues.
The heavens set my course,
I willing accept their guidance.

Millions of years behind, countless time ahead.
Too many objects and satellites scorched.
New planets outside my influence.
Potential visible, I pause.
History fuzzy,
Science hazy.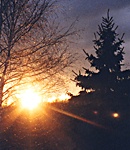 © Christy S., Germantown, NY