You should probably
September 22, 2011
King Kong rubbed your forefinger to bright eyelids moved dim
The fear of nighttime laid its gloves across your lap
But you think a little too close for comfort; Sleepwalker daydreamer
Mud sticks to your jacket lining, casually dip below the counter say hello to your little friend; Wink at me

A slow eyelid to eyelid wink, beautiful
I imagine your brains assumption that you're moving faster than the speed of light
I see you don't like to move

Say H, Say Love, Say I want you to taste my Hard Candy
But Mother told me not to climb into trucks with strangers and especially don't eat their candy, you told me she never said anything about just one small taste, you're eyes are a spiritless shade of our savior only knows

God; If only we had one.

Hazel the eyes were Hazel and the stomach was aching.

Hero of the Underworld

My ribcage squeezed between palms dust clouded retinas I breathe licked across your desert sand lips flaking from the Black Tar smoke rings

Your fingertips brushing against my side as you pass by me, it is a tight fit, and we attempt to never make too much contact but you touch me, I shiver, alter the cold skin on this Sun Shining Sunday called your brother over to your side, swimming through your veins, slip around innards, pop the brain cells, sing of hemoglobin lovin.

Your hair turned to ash and I can see the residue stained hot sweaty over your body suit

Every now and then I see your eyes blue northern see your epidermis in a wholesome hue of peaches which you never want to eat because you'd rather just soak in the day time.


You pushed your teeth into your tongue once to stop your mouth from speaking to me.

I saw you had the super flu told you to take care of yourself when my elbow hit your forehead you shrieked but sat there still a little unaware of the present situation, you've never been aware for 1076 days, firing the ack ack gun, whatever.

My wrist offered up a cigarette once, little sacrifice, my mild attempt at your happiness.

Fingernails grow out a bit too long but there is no sense of desire for the outside windows are fogging up while you are inside and when you step outside I suddenly feel cold although I realize it should be the opposite; I am chasing that day time when you are floating and your limbs find it all too difficult to change positions and your eye lids are barely open but you are looking at me.

I once told you that you were a beautiful person, said always remember that.

I saw you see me when I was seeing you through the daytime, nighttime, through the fighting, through the pineapples and Red Chicken which you sometimes get on occasion maybe; because it makes you feel you are going somewhere.

And I form my fingers in a circle watch you watch me do this say I got you.

Because if anything else my hands would move your hair back from your eyes and breathe sweetheart, do you have a light? And you'd pull it out carefully say "Please, would you like to share and A-bomb, please?" But my skin was under your fingernails and if you ever had a daughter you'd name her China White.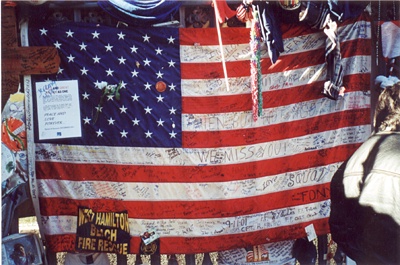 © Ashley F., New City, NY