Nine
August 14, 2011
I never use a bookmark because the ability to remember page numbers makes me feel accomplished. Performing mundane tasks perfectly gives the illusion of perfection, and I've spent too much time chasing perfection to have failed so miserably.

I prefer classical to modern, organic to processed, and black to white, but I'm living a life of contradiction, and sorting through a closet of white shirts. My jeans are just a little too loose in places, and my socks aren't anywhere near long enough to pass over my ankles; much like my taste in people, my taste in clothing is just all wrong.

I'm scared of falling, in love or otherwise, so I find all of the right ways to pull myself out of good situations, and I know just how to spend my nights with the radio on and an empty bed keeping me company. I laugh through puns about becoming a hermit, but they say there's truth behind every joke, and I think maybe, I might just believe them.

My favorite car rides are spent in the backseat, watching the houses pass by, and imagining what it'd be like to live there. I only feel at home when the rooms are empty and I'm counting the seconds until someone breaks the silence; I'm afraid that I'll never be able to call a house my home until I make peace with counting seconds and cooking breakfast for one.

When I numb my mind with reruns of classic television into late hours of the night, I always feel like I'd be happier living as a teenager back then, making a life where the problems were more simple, and the times seemed less dark. I'm always hoping that I'll find a place where everyone knows my name, and meet someone who knows exactly what to say, and when to say nothing at all.

My mother tells all of her friends about my ability to solve complex equations and recite the periodic table, but when she doesn't think I'm listening, she asks my father why can't he be happy, why doesn't he smile anymore? Deep down, I know that they'd be happier watching me fail, and really, I'm happier not letting them see me smile.

I gave up drinking caffeine so I could finally feel the weight of sleep on tired eyes, but I'm finding new ways to stay awake at night. The rush of finding someone new is exactly what I need, and god, I need to be hooked.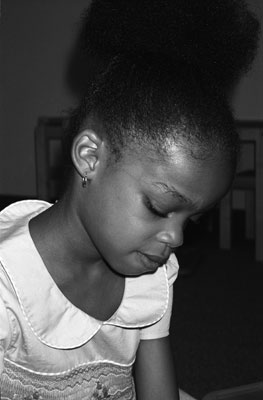 © Megan W., Ocala, FL