Silent Tremors of Love
June 13, 2011
The world is spinning around me faster than the speed of light,
My heart is racing to a beat which I can't decipher,
My head feels like a decapitated grenade,
And every nerve in my body is on end.
His hand reaches out for mine,
Needing to feel my physical presence beside him,
Though he already knows I'm there.
He pulls me closer.
His familiar, masculine scent envelopes me,
Surrounding me in an attempt to neutralize my fears,
Pulling me into a world where only he and I exist.
I wrap my arms around him resting my head on his chest.
He hugs me tighter.
The feel of his chest rising and falling,
And the beat of his heart against my ear,
Relaxes me,
Calms my racing heart.
I look up to see his beautiful, brown eyes gazing down upon my face,
Kindly,
Wonderfully,
Lovingly.
He smiles at me.
I smile back.
He takes my breath away.
He speaks.
"I love you."
His comforting whisper is followed by his soft lips,
Kissing me tenderly,
Sweetly,
Setting my heart racing again.
As I wrap my arms around his strong neck,
And run my fingers through his soft, luxurious hair,
I realize a wonderful, enlightening thing.
I love him too.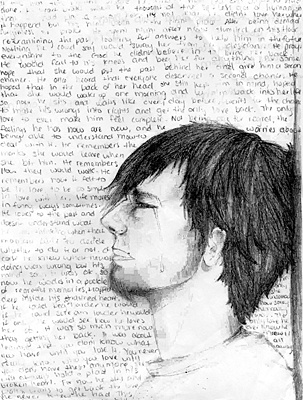 © Annie M., Columbiana, OH