26/11...tragedy in India (Mumbai)
June 12, 2011
26/11 Nightmare or Reality
Sitting far away I could sense the pain,
Perceive the horror and the blood stains.
The primary news flash conveyed the fright,
Mumbai city was in no delight.
Wounded crowd, was a bad site to see,
Trepidation was the only thing I could to feel.
Pain contacted my mind through the television,
It filled my mind with dreadful visions.
Beauty of Taj was ruthlessly destroyed;
With assistance of bomb blasts and dynamites.
Condition of Oberoi Trident cannot be described,
It had many terrorists spreading terror inside.
The massacre was at stations and roads too,
Eternal gunshots broadened dreadfulness all through.
People lost their lives and their loved ones too,
The nights were black the days too.
My heart swelled with pain, fright and anger,
My thoughts were like numb forever.
A drop of pain trickled down my cheek,
And I realized that my love for all human;
Was stronger than me.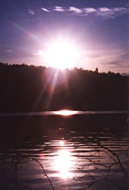 © Laurie T., Hopkinton, MA