Quite Often I Wonder
June 9, 2011
where all this unhappiness stems from
but then I remember
all the s*** that was done to me
each time one time too many.
Don't tell me that
you don't remember Daddy.
All those guilt trips
and hateful words
can't help but take root
in a 5-year-old girl.
Especially when
she only wanted to be,
the sun in your sky
and spring in your step.
The one thing you could be
proud of
with no regrets.
Tell me, did I try too hard?
Or am I just not good enough
to be Daddy's little girl?
I watched your war movies
even though they scared me to death
and stole away any good
I thought the world had.
And I held you as you cried
at the end of every one.
A five-year-old girl
trapped under the weight of a
father still caught in the wake
of a past he can't escape from.
But I sat there with you anyway.
Until you calmed down
and said you were okay.
I wish I could say
you'd do the same for me.
But I guess guilt trips
were always more your thing.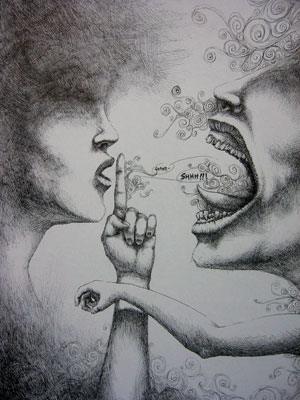 © Andrew M., Apple Valley, MN