The Red Eyes
May 17, 2011
I sit, waiting,
Both hands covering my face, sweating,
Fingers curled up,
Pulling at the tangled mass on my head,
Tightly gripping them, those thin black threads
Not long now, no, not long,
It's coming.
Knowing the fact, I sit, waiting,
The beast is coming,
Dreading its arrival, I sit here,
Silently, tearlessly, crying.

"You can't hold out forever, can you?"
My eyes tightly shut, hands over the alert ears
Desperately trying to block out that hoarse voice,
Block it out of my tired head, trying not to hear.

" You really want to, don't you?"
"No…No…"
"Come to me, won't you?"
"I wouldn't…they told me not to…it would hurt them… I shouldn't…"
The red eyes stare back at me,
Sharp, shiny teeth showing through a crooked grin,
"I'll make it all better, give in, give in"
"No…maybe…a little …no! I promised…"
"You know I'll take all your pain away, make you not feel anything
Give in, child, give in."
"But they told me…I don't have to… I'm better than that…"
An evil laughter escaped it's throat,
Echoing against the walls, or was it the insides of my skull?
"Who said?"
"The good people…they all did"
"You believe them? No? Then come to me"
"Not true…I don't want to"
"Come, Come, do it now! Do it while you're strong!
Do it when you feel hurt, when the world has let you down,
Do it! and I'll be gone"
"No… No…Please stop!"
I scream out, searching for an escape,
Shake my head, throw my pillows, lash out,
Yet the beast remains- unmoved, unharmed.

"Leave me alone,"
"Can't do that- I am you"
It is true so I groan in despair,
Those red eyes have been with me forever.
"Tell me how to kill you"
I ask the red eyes, the sharp teeth
It replies, grinning maliciously
"Giving in is much easier…"
"Or?"
"Or feel numb, become me and I'll be gone"
"Feel numb? That is impossible,
I am only human, can't bury my emotions forever,
The way to be impervious- to me, is unknown."

The beast replies,
"If you want me gone, the way is only one,
Block out the world, build brick walls,
Barricade your soul, and I'll be gone.
Don't let yourself feel,
Don't cry, don't blame
Blame others, not yourself,
Be ruthless, let the anger take over,
Be impervious, inhuman.
You'll no longer see me only then,
You'll be me and I'll be gone."
"I'll do anything" I reply furiously, " to make you disappear
Won't follow you, won't give in,
Watch me be- impervious"
And so those red eyes watched me- quietly observing,
My intentions of evolving-
Quite serious.

Now I sit here again,
And shed not a single tear,
With no regrets and a buried heart,
I sit still, without any fear.
A cougar on chain, ready to lash out,
An active volcano, ready to erupt,
Nothing reaches inside, I'm numb,
I sit in my room now, impervious.
Tired, drained, just living but,
A beast is still here,
Those red eyes glare back at me, unmoving
As I sit still, looking in the mirror.
I smile,
And the beast smiles back at me.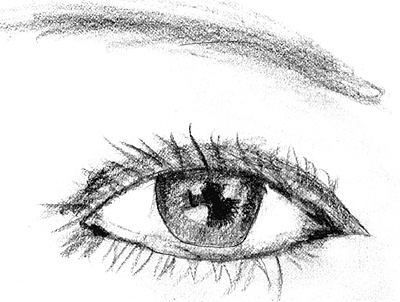 © Natalie D., Fanwood, NJ