Hands
April 26, 2011
His Hand
The young lovers lay
like tired fireflies
in bed
wrapped around each other
slightly glowing
She takes his hand
touching the palm
kneading the fingers
"What are you doing?"
"Touching your hand."
"Why?"
"It's a nice hand.
"It's strong,
"like it can protect,
"and build things.
"It's a hand full of potential."
He smiles to himself
Kisses her shoulder
And they sleep.

Her Hand
The young lovers lay
Like amoebas
Completely relaxed
And getting sleepy
She is inspecting her hands
"I've always hated my hands."
"Why?"
"They're misshapen,
"Covered in hangnails,
"I don't know.
"I never liked them."
He touches her hand
"I like them.
"They're soft,
"Uncalloused,
"They have never known strife,
"Only gentleness.
"And with gentleness comes love."
He pauses.
"Did that make sense?"
She smiles to herself
He kisses her neck
And they sleep.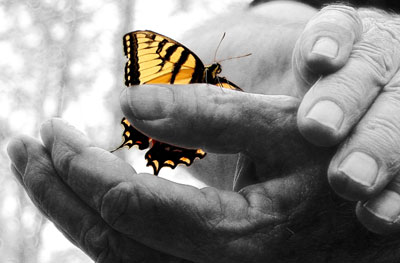 © Katie K., Macon, GA