My Last Sunset
May 7, 2011
I can see the sunset.
It is the only thing I can see.
There is nothing else but this one scene.
It captivates me,
Yet at the same time I know what it means.
It is time for me to say one final goodbye,
To something I do not wish to part with.

I remember sitting in this same spot
Staring at the same sun.
I was younger then,
I had no idea what life was all about.
I never anticipated the downfalls
Or even imagined the triumphs that would occur
Throughout the small life that belonged to me.
I was younger then,
I was naïve,
I imagined a big life that would expand before my eyes
I welcomed my future,
I welcomed the challenges I would inevitably face,
Knowing that I would be happy in the end.

I had sat in this same spot
Watching as the sun set the landscape ablaze,
Watching as each of the sun's rays trembled
Delicately touching my world one last time before parting with it once more.
I had stared at the same sun,
Watching as it glorified on it's throne in the sky.
That was it's kingdom,
It's home,
Where it belonged.
Where had I belonged? At the time I had not known.
At the time I had many questions,
Some of which would never be answered.

I remembered the sun gently touching my face,
It's soft golden hand grazing my skin,
Its warm touch told me it was the end of another day.
Now, as I stared at the same old scene,
The sun once again gently touched my face,
Which was now wet with foolish tears.
And for one last time I felt the warmth of the sun across my face.
I watched the sun slowly sink beyond the horizon,
As I had many times before.
Yet this time was different,
This time I knew it would be my last.
This time it was more beautiful than it had ever been before.
For nothing is more beautiful,
Than your last sunset.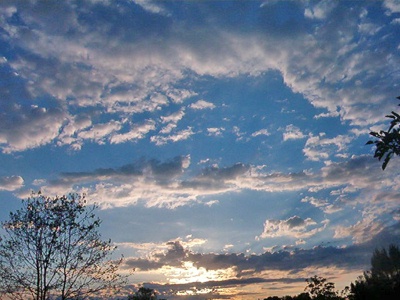 © Kaitlin M., Vincent, OH