Thoughts
April 28, 2011
Pain, hurt, confusion, anger.
Pour it out on the page in words.
Twisted, curled, black, torn.
Empty place I never recognized.
Ripped, blank, hole, sick
What exactly happened?
Words, overload, cramped, scream.
I wouldn't have ever imagined it this way.
Memories, stories, fun, excitment.
I thought it was forever.
Mistake, loss, falling, nightmare.
I saw this in my dreams once.
Blood, red, scars, mind.
Screaming my way out of it all.
Mess, spill, clean, slip.
Why did you have to leave?
Arms, cling, hope, none
I wanted to be held n loved.
Never, forever, all, future
My pain isn't explained at all.
Less, cold, more, hate
You're an idiot.
Stupid, nerd, dork, baby
I'm a nobody.
Thoughts, choke, wrentch, ache.
Rip myself up inside.
Tears, hot, fresh, deep
It's the only sharp feeling I feel anymore....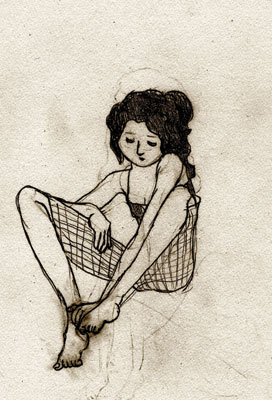 © Samantha W., Albany, NY