Leaving Home
April 13, 2011
Last of the furniture was
moved out three weeks ago.
A single layer of dust rests lazily
on wood paneling.
I haven't forgotten how the
wind sounds when it
slips in the shuddering
window panes.
When no one is left to see
the wintry sun transform
this hollow room into
home, my childhood will fall
to its death. Just like
mom and dad so many years
ago. And Joey, in his infamous jail
break, adventuring to his own end,
trapped between two grand canals,
these sheet-thin walls.
Cherry wood lost its
luster, caramel brown, ages later.
Chocolate in some spots, where my
mattress lay once. Lips don't
show it, but I'm smiling. Nights
spent looking up, looking out at the
world. Creamy clouds swallowing my
lunar goddess, spitting her out again.
Lonely, absorbed into the sad indigo skyline.
Solitary hours, seconds wasted away beside a lover.
Echos of wailing, my sister down the hall. ?Many puppy paws
clawing at the screen. I can
hear the tick of gramps. Moaning the first
sign of morning. Yelping for nana.
Time to wake up. Ding.
Cook breakfast. Ding. Ding.
Ding. Go for a walk. Ding.
Is it lunch? Ding.
Is it time for bed nan?
Ding.
Only silence now, screaming winds
in place of familiar sounds. Only
one glance to recall.
Love you more, now that you're gone.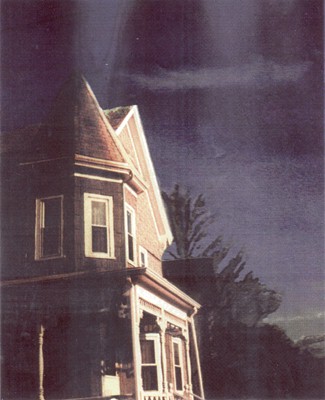 © Elyse G., Wilmington, MA