Ocean Eyes
MAG
March 25, 2011
The tide comes in
And so does he.
Her red herring of the sea
Has returned with nothing in

His heart but the usual parts
About his newest voyage in open waters.

Nothing has changed about him since
She last laid eyes on him. Her prince
Of the sea, and she, his princess of
the land
She grandly holds his calloused hand

In hers and takes in the sight that is he.
Her red herring of the sea
Has not changed a bit
From his heart to his mind to his clever wit,
Which is as bright as the ever lit
Lighthouse beam that shines down
On the murky waters of the ocean's
drowning
Forces that lie in hiding. It seems to fit

The way he stays
Out at sea for too long.

His body, worn and brown like the wood
Of his boat, and his calming ocean eyes,
With no ties
To reality, stare. Oh, if she could

Without acting with such haste,
Not caring to waste
Her life away on a red herring of the sea
"Just let it be,"

Says he. "It's coming for us soon.
I can lasso the moon
For you." "But that's all been said and done
Before!" she cries. Yet no one
Can resist a liar with ocean eyes.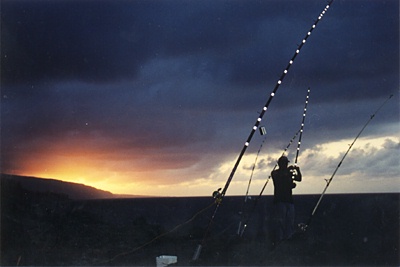 © Jeffrey J., Honokka, HI