I've Always Loved You
March 29, 2011
1. I knew I loved you
When I couldn't stand

That you belonged to someone else.
Their lips touched yours,
My body filled with jealous rage.

2. I knew I loved you
The day mom kicked dad out.
As I watched him pull away,
Tears began to fall.
A mix of anger and sadness
Fled through me.
I thought the pain was here to stay.
But there you were, on the phone,
Comforting me through it all.

3. I knew I loved you
When your hand touched mine
In Economics class.
A rush of endorphins,
Butterflies swarmed in the pit of my stomach.
When I looked in your eyes,
A smile, so big and wide, spread across my face.

4. I knew I loved you
That night we stayed up late,
Exchanged secrets with each other.
You've never judged me
Based on what others say.
The bond we've shared,
A special gift,
Most people only dream of this.

5. I knew I loved you
When you made sure I was okay
After another broke my heart.
You've always put me before yourself,
I know you'd do anything for me.

6. I knew I loved you
When no one else could make me feel
The mix of emotions that you do.
We've had our fair share of ups and downs,
Some days I wish I never knew you.
The fights we have are like WWIII.
Then you send a "I'm sorry" text message,
All the hate disappears.

7. I knew I loved you
The day we became more than best friends,
Advanced to lovers, you're like my other half.
A world without you is unimaginable,
I'm lost without your guidance.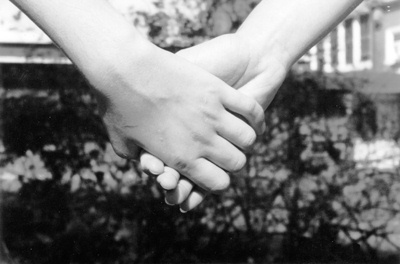 © Lauren G., Pompton Plains, NJ