Butterfly Dark (Papillon noir)
March 27, 2011
The dark butterfly rode the winds of chaos,
mastered the ways of destruction.
Darkness billowed from its wings,
and fury burst from its heart.
Many looked in wonder and many in awe,
but more looked in jealousy, yet more in greed.
Darkness filled the hearts of those
who looked at its cataclysm and smiled.

The black butterfly filled heads with raving madness,
made men do terrible things.
The wings of the butterfly landed on many,
macabre images filling heads with each soft brush of daring cheek.
Death consumed the creature's presence,
Death consumed everyone.

The butterfly's darkness kills all, destroys all.
No life flourishes in the shadow of its wings except
maggots, ever-crawling, ever-wriggling, and rats, whose teeth gnaw and gnaw.
Flies cover and swarm the bodies left behind by the famines, wars, and disease.

A palace filled with butterflies, but you only need one;
For in a thousand colorful butterflies, you only need a single black
to make a Kingdom fall.
The feeding frenzy starts with the animals - they become vicious, angry.
Then the poorest towns, their people, and then it moves on higher up.
The King, too greedy, won't give up his treasure for his people,
and dies for it.
Riots overcome the kingdom, and Darkness reigns supreme.
Kingdoms hear and kingdoms fall;
war breaks out between them all.

To hear the flutter of the butterfly's wings is to hear the voice of the Devil.
Low, sweet, and seductive;
All creatures are compelled to obey as it dangled their secret dreams and desires in front of them.
Ichabod in the form of beauty, the Morning Star risen once again.
Beauty does not rest just in the eye of the beholder,
but in their heart, as well.
Satan lies beneath the surface of the butterfly, of the earth,
On the wings of a butterfly, shall hell unearth.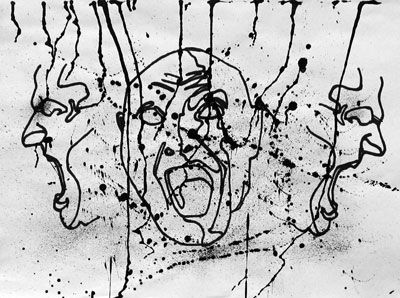 © Luke S., Montclair, NJ