The Patriot
March 14, 2011
I stand for liberty, peace, and justice.
I stand for freedom.
The eagle so graciously soars above me,
While people admire me from down below,
And so I prevail.
The sight of me brings back memories,
Implanted only through faded pages,
Testimonials by the loyalists,
In each turn a lost spirit,
And so my reign remains.
Harsh words of the wise man,
Impinge on me not, rather,
Those who do not hold me in high esteem.
Yet still I stand strong.
Through thresholds of odium,
I am trampled, soiled, burned,
My people attacked, again and again,
Many people lost for what we are fighting,
But I sheath those valiant souls!
Still, regiments hold me proud, a symbol,
Of complete invincibility.
A decline presents however,
Eager faces once charged with drive,
Now replaced by lethargic façade.
They've lost faith in me,
Never standing to salute,
Or pledge their allegiance to me.
Refusing to honor those who,
Fought for their right to decide-
To not take a stand.
I am neglected.
Here I tremble under the force of the wind,
Sweeping away with it my significance-
My dreams and aspirations that were shared,
Now only a distant remembrance,
Washed away on the rocky shores.
Forget me not.
And pray that one day,
Negligence will be replaced by respect,
Vice replaced by virtue.
Lost cause replaced by hope.
And the people will deliberate,
As their fathers, many years before-
When my implications first stitched.
Your backs now turn away from me,
Hailing the golden arch,
And I wave-to seize your attention!
Demanding your reverence.
Desertion stings, like an eagle,
Shot down from the open skies.
So intently I wait,
For Altruism to overcome.
So intently I wait,
For my people to take a stand.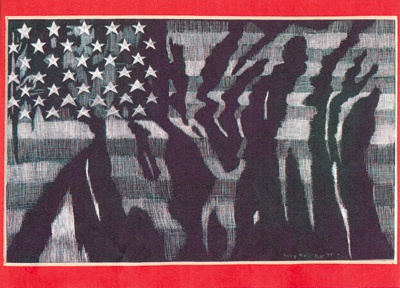 © Haley M., Ellinwood, KS