Lemon Thorns & Tangerine Hearts
March 9, 2011
Lost love is an ebony rose,
a consuming pain that blooms to
the beat of a broken heart.
Jealousy is the emerald spade
that sowed that ashen teardrop seed,
tilling the same dirt that had grown
a many thousand weeds.
Betrayal is the desolate cobalt field of snow,
where, surrounded by the bitter and cold,
an ebony rose bud began to grow.
Anger and hatred are the crimson thorns
that burst from the body of the ebony rose.
They act as soldiers, they protect but push away,
and come home damaged and worn
at the end of the day.
Despair is the indigo caterpillar
that gnaws at the corners of drooping leaves
and scratches the surface of a vulnerable skin
belonging to a tall copper stem.
Soon enough it will bury itself in a winter white cocoon,
hoping to mask its being
and conceal itself from scrutinizing eyes
but only to find that it will grow in its desired confinement
and then explode into somber psychedelic wings
to streak and touch the clouds of a many stormy skies.
Loneliness and emptiness are the ebony petals
that bloom in desperation, praying for even
the smallest lick of a radiant sunbeam
or the attention of a tender gardening glove
to reach out for them; a friend.
Without realizing, as they open
they reveal the core of the rose,
the heart of the plant that has turned
numb.
But with the passing of a few leaden heartbeats more,
ebony petals begin to fall onto cobalt snow.
And bitten leaves begin to wither.
And scratched stems begin to heal.
And jagged thorns begin to retreat.
And emerald spades begin to be forgotten
as they lie in the clutter of a magenta garden shed.
And cobalt snow begins to melt,
until nothing but a photograph or a memory
of that ebony rose is left.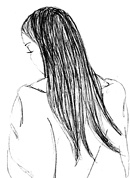 © Miranda B., Neosho, MO