Lethal.
March 5, 2011
Blood, crimson gold, pouring down my cheeks.
Eyes of fire, hollow within thy reach.
Alluring matrix, pouring fantasies into my head. Dread. What a hollow heart.

Signs of unease, trepidation upon your grace. Within my face there's trouble.
People are walking so slowly.
Such appaling creatures. No one sees what I see in the dark.

The ticks in time are erasing memories of light. Swallow thee, follow me closely.
Wholesome mind, though my throat is seeming to suffocate. Breathless. Hopeless.
Something amongst my shadow. Something like a demon. Clawing into my sad, sad world.

Once upon a stormy night, I walked into a room.
I crawled within the Shaman's sight, got gobbled into doom.
I lay upon my bed of stone and cry below the tomb.

The Lords in Red are dressed to kill a little fly like me.
Harsh cloth preventing me from being able to see, and I wait.
They cut my throat and leave me to perish below the stars. It's about time.

The air teems with a frightful noise, but into sweet torpor I fall.
Even in my sober dreams I sob and lose it all.
I was never meant to cross the line into the terrene of Life. Flawless, with so many flaws.

Words ring out between my ears. How to kill the villains that gave me reason to fall aground.
No sound. Make me see what I've been falling into. Triangles, sharp and full.
Bringer of Annihilation, lay me into the well. So swell. Never to see the sun again.

I warn you, hands like mine are fatal. Eyes like mine are inevitable for disaster.
I wish I'd never seen something so beautiful. Losing is what I was made for.
But this day I've gained every breath of freedom in the Earth. What am I worth?

I'm only good for the fire. As long as it burns in desire. Fill me up with your thoughts.
Don't ever let me go.
Surrender to the fateful soul. No more.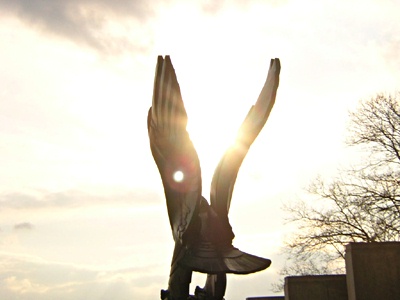 © Brittan S., Claremont, CA