What I am Looking For
February 28, 2011
Stuff in my life got me thinking,

prioritizing,

searching for truth,

organizing.

hoping to find a truth,

clarity despite my youth.

I am looking for a reason,

to change my season,

move past obstacles in life,

continue to fight through pain and strife.

What does it feel like...

to know you're a disappointment?

to know that your best isn't good enough!

The feeling is one of utter despair,

when you look for satisfaction,

and it's never there.

Why do I feel like there's no way to solve,

the dilemma of time,

no way to dissolve,

the emotional bonds,

no way to absolve,

myself of guilt,

no way to rid,

my soul of the silt,

soil,

grime,

that's built up over time.

Did I wait too long?

Is it too late?

Was the final straw, my last mistake?

And if it was,

in my next life,

I hope to live in a simpler way,

and try not to make the same mistakes,

that caused this life to be filled with pain,

regrets, sorrow, and more of the same,

repititions pulsate,

resounding hate,

for all the things,

for my clipped wings,

that caused me to fall,

that caused me pain,

that led me to these ways.

I am looking for a piece of hope,

something to grasp onto,

something to live for,

my piece of rope,

that pulls me in,

up from this inferno,

out of sin.

And in this saving, hopeful time,

I think that I will choose to stop,

and tilt my head in gentle thought,

and reminisce of the time I lost.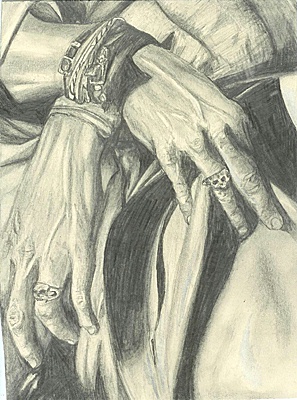 © Angela K., Kansasville, WI