Five Hundred and Forty Days
February 21, 2011
I have passed you over five hundred and forty days,
and there's still something that will make my feet momentarily stay
where they are, no matter my pace.
My heart starts to race.
My voice escapes.
My mouth threatens to gape.
My shy "hi" comes out,
so small I nearly pout.
It takes me a minute to regain myself,
to put my feelings up high on a shelf,
where my mind can't reach,
and my heart won't breach.
A blush reddens my cheeks.
My legs grow weak.
My fall is imminent.
But it's worse than any physical ailment.
My sanity is slowly leaking away
with the tears I cry every day.
Now I'm just a shadow,
trailing after you till the night forces me to go.
I'll study you even harder than Spanish,
until you all but vanish.
It used to be the other way around.
We seem to be either fatefully or fatally bound.
Only five hundred and forty days,
but you've captured me in so many ways.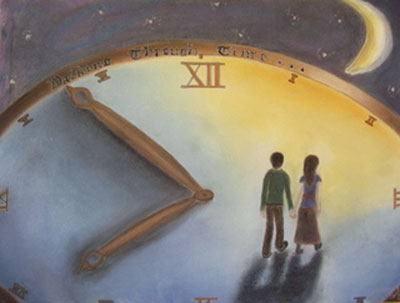 © Carollynn G., Hawthorne, NY