Upholding the Tradition
February 16, 2011
Once upon a time
A kid looked up at the stands
After the last football game
Of his brother's senior year.

It was cold, rainy, windy
The players were covered in mud
But the boy decided right then
He'd be a part of them one day, a hero.

Flash forward ten years
Now it's his senior year
And it's warm, and it's humid
And they're all covered in dirt.

Everyone is crying
It's nothing like he remembers
When he watched his older brother
Walk off the field as his hero.

It wasn't all glamour
It was sweat, blood, and tears
Aching muscles, tired legs
Broken arms and bruises.

Someone tugs on his sleeve
He looks down
It's his little brother
Barely eight years old.

The kid has that look in his eyes
That look that clearly says
"I'll be one of you one day"
The look of expectation, admiration.

The realization hits him hard
The burden and the honor
He's been given the chance
To be someone's hero.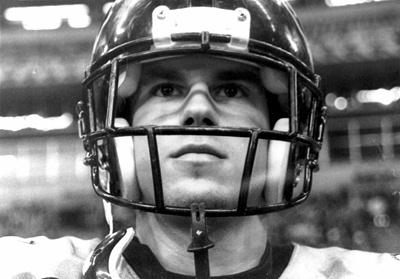 © Maria M., Halton City, TX